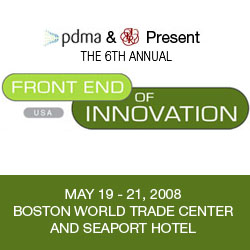 YOUR CATALYST TO BREAKTHROUGH
PDMA & IIR 6th Annual Front End of Innovation
Our consulting focuses on the front end of innovation. So it should be of no surprise that Innovare is one of the primary sponsors of this year's Front End of Innovation conference in Boston on May 19-21.
The Front End conference will focus on the importance of innovation for growth during difficult economic times. This is a great opportunity to listen other front end practitioners, exchange ideas, approaches and tools that inspire front end performance.
While at the show, stop by our booth. Find out how our strategic approach to customer-centered innovation is doubling our client's front end success rates and driving business growth!
Our front end process is designed to help innovation teams create a range of winning new product and service concepts and prepare them for full implementation. The process involves a comprehensive team immersion during Discovery. This informs Ideation so it becomes much more productive. Ideation happens during our Innovare Greenhouse Workshops where we facilitate the team as they create great working concepts. These working concepts are transformed into a portfolio of innovation opportunities that are further refined, validated, and placed on deck for implementation.
---
Learn more about Innovare's systematic Front End process that inspires innovation across the organization
©2001- 2008 Innovare, Inc. All rights reserved.
Innovare and Vocal Insights are registered trademarks
of Innovare, Inc.